Shape and slim down your body with this non-invasive machine. The best part? There's no surgery required. Losing weight is difficult. There's no arguing that. Even if we exercise every day, it'll take quite a long time for us to lose weight and get rid of fat. That's not the case with this machine.


CryoSculpting treatment is a safe body contouring procedure that'll remove up to 25% fat cells. Nothing's wrong with your body. But putting on too much weight can be detrimental to our health. Get rid of fat and lose weight easily with the CoolRestore machine.

To learn more, read this guide on everything you need to know about this fat freezing machine and CryoSculpting equipment.


What is a CryoSculpting machine?
From love handles to double chins, you can safely remove fat with CryoSculpting. This treatment has been proven to be both safe and effective. It doesn't require any surgery and is non-invasive.

If you're worried about results, don't be. Studies have shown that you can get rid of around 20% - 25% fat after one session! But, it'll take around 1 to 3 months for these results to be obvious.
The CryoSculpting machine price differs depending on which handpiece you want.

The CryoSculpting Machine
Let's take a closer look at the cryotherapy machine. We'll discuss everything from the product specifications to how the machine works and how much it costs to help you decide whether or not this treatment is worth your money.


How does this CoolRestore machine work?
Think of this as a fat freezing machine. This machine can be used on several areas of the body from your stomach and arms down to your thighs and knees. What this machine does is it freezes fat cells for a period of time to reduce them. Fat cells freeze before the skin does so you don't have to worry. This procedure is called cryolipolysis.

If you're looking for a non-invasive and non-surgical alternative to liposuction, this is the treatment for you. Note that you cannot do this on your own. This procedure should be done by a professional to make sure that the procedure is done right. A professional can selectively target the body part for the best results.
The treatment takes only about 30 minutes per area. A provider applies gel on the treated skin area, and move with a cryo wand over the skin with slow circular motions. This cryo wand will freeze the fat layer and reduce the fat present in your body.


The Machine's Great Features
2 Applicators in one system. Different body parts require different types of applicators. And this machine has 2 applicators in one system. These 2 applicators are the Boby Contouring Cryo Wand and Facial Skin Tightening Cryo Wand.
The Boby Contouring Cryo Wand is for your abdomen, flanks, and love handles, also fat below your buttocks, flanks, love handles, bra lines, the abdomen and thighs. The Facial Skin Tightening Cryo Wand is for face, neck, decolletage, hands, eyes, double chin and jaw line. CoolRestore Elegance's applicators have different sizes ensuring you can use the cryosculpting machine on almost every body part.

100% Holistic Cooling Feature.

There is no nitrogen; only regular distilled water running inside the system
There is no ultrasound, or electrical current used; only controlled low temperatures
This technology was created for aestheticians and massage therapists, so there is no need for Doctor's supervision
CoolRestore Elegance is the only one treatment that can address both concerns in one treatment: skin laxity and fat reduction
This procedure is very easy to perform and it has a very elegant treatment technique

Usual cryosculpting machines can only be used on the usual body parts which are the legs, arms, and abdomen. But that's not the case with Zemits CoolRestore Elegance machine. The CoolRestore Elegance has intelligent preset protocols and specifically crafted small handpiece so it can remove fat from small areas like the chin and the knees.


What You Need to Know About CoolRestore Elegance Treatment
What does this treatment include? If your clients decide to get this treatment, they can choose which area they'd like to treat. This device can target several body parts and this treatment has tons of choices. Feel free to choose which one you need.
1. Chin and knees using the small cryosculpting probe
2. Abdomen and waist
3. Love handles
4. Inner and outer thighs
5. Arms and back
6. The sides of the body such as those close to your bra called "bra fat"

How to explaine your clients what to expect.
Don't expect any type of surgery. This treatment is non-invasive. In a safe and controlled environment with the help of professionals who know what they're doing, you can slim down your body and get rid of fat by using this coolrestore machine. This cryosculpting machine use is available and you can invest in one treatment to try it out.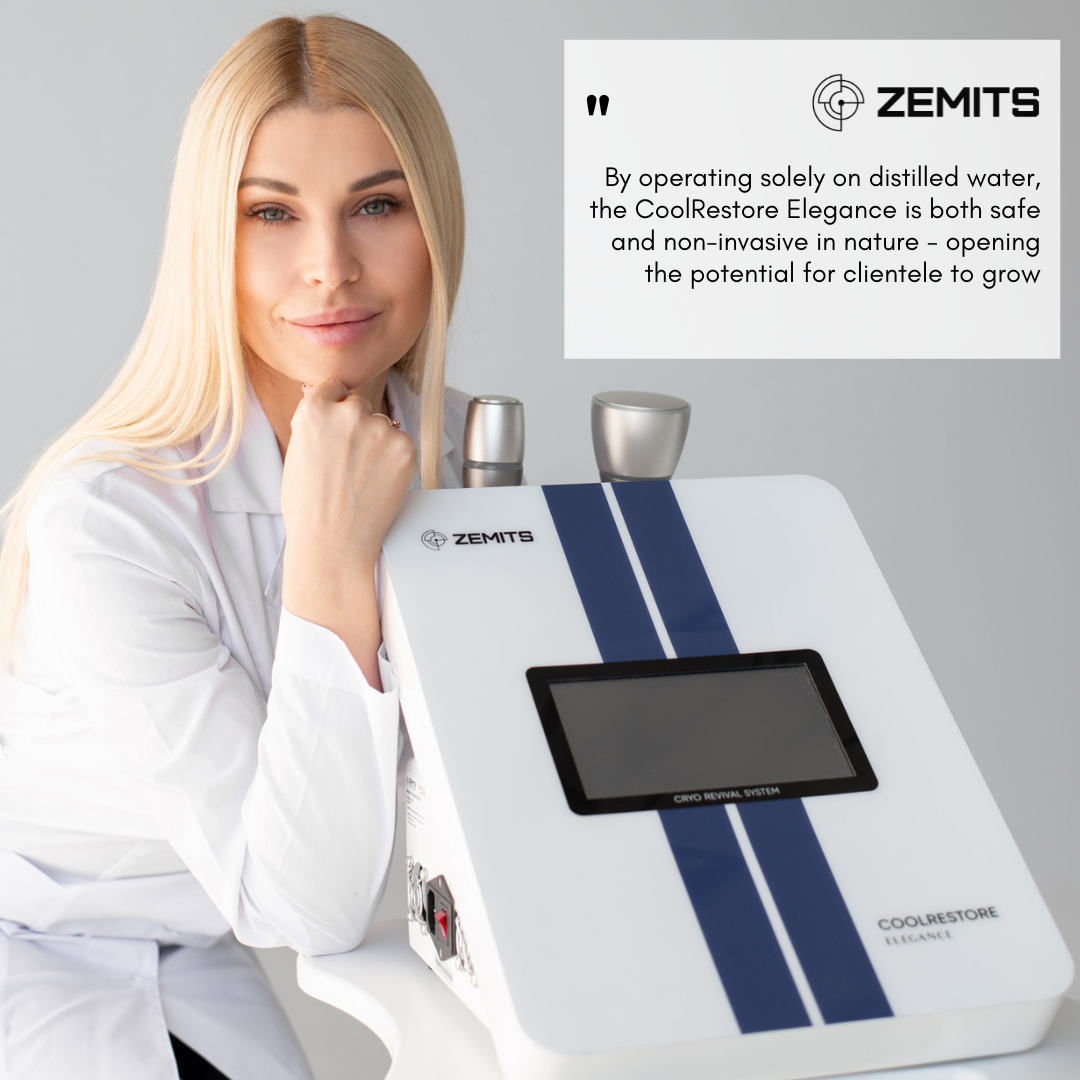 What to Prepare. The first thing you have to do is to choose which part of your body you'd like to treat. And then before you can book a treatment, you'll need to have your doctor check you. Make sure you are a good candidate for this treatment to avoid any health issues. If you're fit and healthy, you'll be just fine. This treatment is completely safe and non-surgical with almost zero recovery time. Checking with your doctor is simply a safety precaution you're recommended to do.
Once you're given the go-ahead, apply some anti-inflammatories like aspirin before the procedure. You can also choose to take a before photo so you can compare it to the results.


The CryoSculpting Procedure
CoolRestore Elegance has a specially design Cryo Wand that cools down to preset temperature range. During the treatment aesthetician applies conductive gel on the treated area of about 6 to 6 inches.
The device will drop down the temperature on the Cryo wand surface based on the selected parameters by the provider. Then, the treatment starts: very slow and elegant circular focused motioning with the cryo wand gliding over the gel. Our skin has cold receptors that triggers complete body response, that is why we recommend to cover your client with cozy blanket during the treatment.
At the moment when CryoWand gets in contact with the skin, first skin reaction will be shocking cold, after just a couple of minutes of this application, skin gets numb and client stops feeling cold sensations.


After the Procedure
Remember that this isn't surgery or anything too harsh. There is not much recovery time required. And you can live life normally and enjoy your usual day-
to-day activities almost immediately. However, try to take it easy for at least a day and don't do anything strenuous to the area. You might feel sore in that area but that's normal. And the redness will fade after a few weeks.

In terms of results, it takes approximately 3 weeks for you to be able to see obvious results. The optimal and best results will appear around 2 to 3 months after your treatment. Some people require only one treatment while some require multiple ones. It all depends on the body type. To maintain great results, make sure to take care of your body. Exercise when you can and eat healthily. Living a healthy lifestyle will give you a healthy body.


This CryoSculpting Machine's Pros and Cons
Pros
- The treatment is efficient and works quickly
- The CoolRestore Elegance machine is reliable
- The machine is made of strong and high-quality materials
- The treatment works and is completely safe
Cons
- It is not cheap.
- The treatment can cause the targeted area to be sore for a few days.
- This treatment is not permanent. If you do not take care of your body and live a healthy lifestyle, the results will not stay. Think of this as a head start to your journey.


The Zemits CoolRestore Elegance
What makes this unique? We'll answer that question below.
It has a Smart Treatment Menu
The first great feature this machine includes is the smart treatment menu. This menu includes treatment options that range from gentle to moderate to strong. It all depends on the patient's wants. Because of this smart treatment menu, there are 7 working modes available for the patient to choose from. The 7 are eye lifting, face rejuvenation, jawline sculpting, double chin slimming, neck firming, body slimming, and hand revival. The Zemits machine makes sure that you get exactly what you pay for from slimming treatments, to skin tightening ones.

The Technology
The CoolRestore Technology makes sure the treatment can be customized to suit the client's needs. The system's treatment, for instance, can vary from strong to moderate depending on the client. The probe can be switched from small to big depending on the body part. This makes sure that the machine and treatment is able to target the client's needs and give them results.


FAQ Section
1. Are the results permanent?
The result of this treatment is permanent if you live a healthy lifestyle. If you eat too much and if you aren't active or you don't exercise, you will likely gain weight and you might gain back the weight you've lost.
You should not rely on this treatment to lose weight. If you do not want to gain weight, you still need to stay active and eat enough instead of too much. This cryosculpting treatment is just going to make it easier for you to lose weight. Maintaining the weight will be up to you.

2. Is this treatment safe?
Yes, this treatment is safe. It is non-invasive and does not require surgery. There are side effects but they aren't bad. Side effects include soreness in your targeted area.
After the procedure, we recommend that you rest for at least a day. This procedure is completely safe. Just connect with the right professionals who know what they're doing and you'll get exactly what you want.


The Takeaway
If you want help losing weight, this treatment is your best bet. With the right cryosculpting equipment, you can lose weight in a safe and non-invasive manner. It's a great alternative to liposuction. Don't wait any longer! Reap the benefits of this great treatment.