Having tattoos in this generation is becoming more liberal compared to the previous generations. People get tattoos for various and random reasons. Most often in this generation, people get tattoos in a skip of a heartbeat. Their tattoos are highly emotional and sentimental.

Emotions change as seasons do, as your tattoo's value for you. It's inevitable that there may be tattoos you may have regretted after a while. It could be an ex partner's name tattooed on your skin, or anything symbolic related to them. Or perhaps some cheap tattoo you got as a bro initiation in someone's party that haunts you now. Either way, you may be interested in undergoing a laser tattoo removal.

Here is a guide to search for the best laser tattoo removal machine for sale to help you better decide before you finally do anything about having that tattoo removed.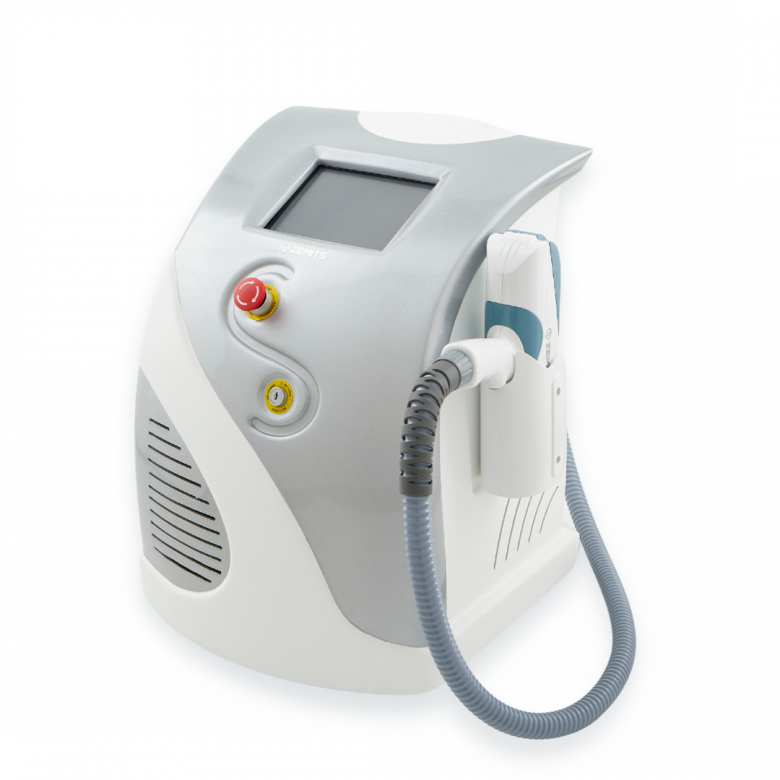 Laser Tattoo Removal Machine Buying Guide
Whether you're here to purchase a laser tattoo removal machine for your business or for your personal use, this will be a useful guide for you to strategically weigh your options.
I. How does Laser Tattoo Removal work?
If you have had an IPL (Intense Pulsed Light) Treatment for you hair and skin problems, you will feel more familiar with laser tattoo removers.
The lasers of a laser tattoo removal machine for sale produce short bursts of light at different wavelengths. When these light waves are directed to your tattoo, they penetrate the skin and are absorbed by the ink. The light breaks down the ink into smaller particles that are gradually removed by the body and immune system.

Take note of gradually. It often takes multiple laser tattoo removal sessions especially when the tattoo is large. Although the color of the ink also plays a vital role on the process of how fast you can get rid of that tattoo. There are different wavelengths needed for different colors as the absorption of the light varies on the color of the ink. Yellow, green, and blue inks are usually the most difficult to remove while black and red pigments are the easiest.
This means that the larger, more colorful, and more complex the tattoo design is, the more sessions it would need to have it successfully removed in a DIY set-up at home.
Old laser tattoo removal machines and surgical removal options tend to damage the skin but laser tattoo removal is safer and is less likely to leave a permanent damage on the skin.

II. Important factors to consider:
Much like buying a new laptop or a mobile phone, you purchase not merely on how attractive the design is but more importantly on its features and specs. This is the same with when purchasing a laser tattoo removal machine. There are factors to pay attention to before getting it.
1. Multifunctional laser tattoo removal machine
There are laser tattoo removal machines available in the market advertising different functions. You might be skeptical, and that is normal, but does not necessarily mean that the laser tattoo removal machine is fake. In fact, the laser technology that removes tattoo can also be very effective on other types of skin conditions and pigmentations.
Regardless, it is always best to look for laser tattoo removal machine that is designed mainly for tattoo removal. Having reviews and recommendations of the brand and machine is helpful to realize the effectivity and safety of the laser tattoo removal machine.

2. Laser technology
There are two types of laser technology that are effective in removing tattoos. If a tattoo removal machine does not clearly state which it uses, avoid it!
(a) The most popular type is the Nd:YAG laser, which usually offers wavelengths of 1064nm and 532nm. 1064nm wavelength is best suitable in removing black and blue tattoo inks. Nd:YAG lasers can also have settings that allows it to switch wavelengths to 532nm. This wavelength is best suitable for red ink and other warm color shades.
(b) Picosecond is the other type of laser tattoo remover. This type is faster and more modern compared to Q-switched, a reason why picosecond costs more. Picosecond lasers work in the same way as the Q-switched but they offer a wider range of wavelengths and operate much faster with higher energy levels. This makes the sessions faster and may reduce the number of sessions needed to completely remove the tattoo.

3. Wavelengths, pulses, and energy
For tattoos with purely black ink, a wavelength of 1064nm is needed. While if the tattoo contains a range of colors, it needs a laser tattoo remover that is capable of switching wavelengths to 532nm for warm sunset colors and 755nm for green and blue colors.
And energy which is measured in j/cm2 or mj (these are the figures to look for in comparing laser tattoo removal machines). The higher energy, the more aggressive and more efficient the laser tattoo removal machine is. But it can also be determined by the spot size of the machine.

4. Other considerations
(a) Ease of use. Buying technical tattoo removal lasers that are used by professionals might sound great but if you are not able to work around how to use it properly, it won't work out. The ease of use is an important consideration to save you money from laser tattoo removal machines you may not be able to use however, you have to consider the warranty too.
Make sure that the manufacturer can be contacted and have provided the necessary information to reach them in case of malfunctions or defects. Do check the manual too if it is readable and easy to understand.
(b) Cost. The cost will vary depending on the brand of the laser tattoo removal machine, the power needed, and what it is suitable for. A small laser tattoo removal machine to remove an eyebrow tattoo will cost less than a professional, clinic-standard, and large laser tattoo removal machine.


Laser Tattoo Removal Machine Certifications?
The FDA does regulate laser tattoo removal machines. According to their guide to tattoo removal, when a laser tattoo removal machine acquires FDA's clearance, that means that the FDA has checked its equivalent to an existing legal machine on the market.
You also have to take note that FDA has not yet approved, so far, any creams or ointments designed to remove tattoos for home use. So it would be best for your safety to avoid such products being advertised online.


Safety Precautions before using a laser tattoo removal machine
If important information is not available on the label of the laser tattoo removal machine such as the laser type, frequencies, power needed, FDA approved seal, no matter if it's on sale, you should definitely avoid it.
Likewise, FDA clearance, positive clinical trials, recommendations from real tattoo artists and tattoo remover professionals, are all things you should look for. If a laser tattoo removal machine does not immediately strike to be safe and professional, it is best left on the shelf.
· READ THE MANUAL
Safety procedures may vary from machine to machine. The manufacturer should give you a list of what you can and cannot do. Operating instructions should be clear for readability and easy to understand.
Some laser tattoo removal machines are not recommended for home use and are strictly operated by professionally trained tattoo remover, but in general;

Make sure the tattoo area is clean, dry, and unobstructed.
Use the right wavelength frequency for the tattoo colors.
Use the right pulse frequency and a spot size that is appropriate for the tattoo size.
Wear protective glasses to protect your eyes from the laser light.
Do a small patch test (e.g. 5mm spot) and wait for a few days to observe properly if your skin will have adverse reactions before targeting the entire tattoo in a session.
The Best Laser Tattoo Removal Machine of 2022
Best for: tattoo removal, skin rejuvenation and other skin problems
Home use: no, needs professional operators
The Zemits NdPrime is an aesthetic Nd:YAG laser with replaceable applicators and wavelengths (532nm, 1 064nm, and 1 320nm) for targeting a wider range of aesthetic skin problems such as;

Tattoo removal
Pigmented lesions
Skin Rejuvenation (Hollywood Carbon Peel)
The Zemits NdPrime is a type of Q-switched Nd:YAG laser that produces both 1 064nm and 532nm. With this combination, this laser tattoo removal machine is capable of treating a wide range of tattoo ink colors including black, brown, violet, blue, red, orange, green, and yellow. It can also produce a wavelength of 1 320nm used for skin resurfacing or skin rejuvenation (Hollywood Carbon Peel).
Zemits NdPrime can accommodate any skin tone excluding Fitzpatrick level 5 to 6. Clients with sunburned skin are not allowed to take laser tattoo removal procedures or skin treatments until their skin fully heals. According to clients' feedback, one can expect little to no irritation within 3 to 7 days. As for the laser tattoo removal process, it can last between 10 to 15 minutes per session.
For businesses who want to invest in this laser tattoo removal machine with associated skin treatments, it can take up to 4 to 5 weeks before the return of the investment. This is in consideration of having an established clientele. While as for start-up businesses, it can take up to an estimated 2 to 3 months for the return of investment.
Described as the "fastest laser tattoo removal machine", this unit is easy to operate and has a smart technology for auto-calibration. Put simply, it's good for beginners who don't want to spend all day with their nose in the manual looking for the right instructions.
The speed of this tattoo laser is up to 25Hz and it can maintain that speed and energy with spot sizes up to 10mm. That's good for most tattoo sizes.

FAQ
1. How does laser tattoo removal work?
Laser tattoo removal is the process of firing light at specific wavelengths on your skin. The light breaks down the ink pigments that create your tattoo. To completely remove the tattoo, it may take over multiple sessions depending on the size, pigment, and complexity of it.

2. How effective is a laser tattoo removal?
Laser tattoo removal is proven to be highly effective, when used correctly. There are many factors to consider in laser tattoo removal such as complexity, size, and color of the tattoo. There are specific wavelengths of light, standard power, and pattern on how to effectively and safely remove a tattoo. Usually, black and red inks are those that are easier and quicker to remove.

3. How long would it take before a laser tattoo removal fade the tattoo?
In most cases, the skin will return to normal after the tattoo is fully removed. In some cases where the tattoo is heavily pigmented, the client may struggle to completely erase the tattoo and restore their skin with this method of removal.
Typically, laser tattoo removal should not be leaving any lasting damage to the skin. There may be instances where the client may experience discomfort during the session and in the days coming after, as the skin heals, but this should not be permanent.
The first session might take a week or so to heal but subsequent sessions will take less and less time. Eventually, the tattoo will have faded completely.

4. How painful is a laser tattoo removal?
Clients would generally describe the treatment as "uncomfortable" rather than painful. This would highly depend on the client's pain threshold or tolerance. But then if you're able to survive the tattoo session itself, then the removal will not bother you at all!

5. How much do laser tattoo removal cost?
The cost varies greatly. The cheapest laser tattoo removal machine is roughly $10,000, while the most expensive would be around $100,000. These are the prices to be considered when you are considering on buying your professional laser.