IPL machines or Intense Pulsed Light machines are the new companion of many cosmetic and medical practitioners. The professional IPL photo-facial machine is the revolutionized treatment for hair removal, sunspot/pigmentation removal, acne treatment, anti-aging treatment, and skin rejuvenation.

IPL machines are the new "it" in the market as customers love how it is more effective, safer, and pain-free. It also has no downtime and no side effects; customers can automatically go back to their normal routine right after the treatment.
On some occasions it still depends on the IPL technology used, some customers may still feel discomfort or pain. The best IPL technology is one who adopts SHR (Super Hair Removal) OPT (Optimal Pulsed Technology) duo where it can guarantee a pain-free and safer treatment even for skins with color.

With the vast probable producers of IPL machines, Zemits is the brand for Intense Pulsed Light machines with the most reviews and has low cost. Zemits' professional photo facial IPL machine package offers the following:

SHR + E-light double handpiece IPL machine,
1-10Hz super hair removal, fast and pain-free,
SHR/SSS/E-light/OPT 4 modes optional,
E-light energy 1-50J/cm2, SHR energy up to 26J/cm2,
SHR wavelength 650nm-950nm, E-light has 5 filters,
Xenon lamp, lifespan over 1 million shots,
Japanese imported 15000uF capacitor,
And 2 years warranty for the machine.
Adopts SHR OPT Technology
How can IPL machine boost your spa/salon business?
While there are a wide variation of spa and/or salon businesses, only a few advances to success. The secret to every business' success is customers, loyal customers. For a customer to keep coming back, you must keep satisfying their needs and wants.
In these modern times, spa and/or salon businesses' customers prefer services that are faster, more effective, safer, and pain-free. They prefer non-surgical and non-invasive procedures for their skin and hair problems. IPL machines have made it possible for customers to have an option other than the painful and hassle traditional methods.
Since there is a best option now in the market, which is the IPL machine, it would be in the best interests of your growing spa and/or salon business to maximize the IPL machine for sale 2022.
Here is a list of reasons why IPL machine would help you advance your spa/salon business:
1. IPL machine can provide multiple treatments
Usually, it takes one machine to do one treatment. And for your spa and/or salon to be able to offer a wide range of services to your customers, you would have to invest into a lot of machines. A lot of machines would mean high cost for the business.
With the help of IPL machine, you would not have to worry about investing into a lot of machines as it is a multifunctional device. The IPL machine could provide at least 10 services including hair removal, skin rejuvenation, acne treatment, anti-aging treatment, sun spot/ pigmentation removal, and spider-vein removal. A single IPL device could already meet the basic demands for a salon and/or spa treatment.

2. Save space for your spa or salon
As mentioned, a single IPL device could already provide at least 10 services of basic demands for a salon and/or spa treatment. It would mean less machineries, more space.
This is most helpful for small to medium salon and/or spa businesses where rental is vital. You cannot let machineries take up all the space that you have. It will greatly affect the other services that you offer if they are not given equal attention or space allotment. And of course, the comfortability of your customers and service-providers to move around is of high importance too.

3. Attract new customers and gain regulars
Convenience of the services is what customers go to for coming into a spa and/or salon house. They do not need to experience what they can do at home because they expect professional service. An IPL machine gives them the satisfaction of the treatment they want; more effective, safer, faster, and pain-free.
You will lose customers as much as losing the opportunity of IPL machine for sale 2021. Not being able to provide the services your customer wants will put your business down. That is why it is very important to be up to date with what's in demand in the market.

4. High profit and fast return of investment
Given that one IPL machine gives at least 10 skin and hair treatment, an estimated of 4-8 clients will help you get the cost back, depending on how many services one client would be availing from you. After 4-8 clients, all profit will be your benefit.
The market of spa and salon businesses are becoming tight as traditional cosmetic methods are not competitive anymore, it's either you drown or you compete. Owning an IPL machine is the fastest and lowest cost to immediately level up your game in the competition. You only need to invest at least one Zemits IPL machine and you can guarantee an immediate boost in your whole service operations.


Basic performance for a good IPL device
effective, safe, and pain-free clinical results
no downtime and almost no side effects
competitive price and maximize your return of investment
long working hours and lifetime of the machine
lowest cost for maintenance
Features of a quality IPL system
True color touch screen interface for a friendly and hassle-free operation
E-light (IPL + RF) technology with Sapphire contact cooling
Adopt SHR OPT (Optimal Pulsed Technology) which could apply to SHR frequency of 1-10Hz
A high-quality Xenon lamp with a long lifetime
Multifunctional and has a wide spectrum of filters at least 400nm-1200nm
How to find a good IPL supplier?
The guaranteed success of your business deeply depends on the quality of the machine you are going to purchase and that is why looking for a good IPL supplier is vital. A single mistake or negative testament from a customer can ruin the whole reputation of your business.
There are many IPL suppliers in the market, it can be overwhelming but renowned brands will not let you down for sure. You should always be wise in your investments, that is why it is very important to bet on what is sure and reliable.
Below is a list of main points you need to pay attention to when purchasing your IPL machine.

Quality always comes first. High quality ensures high efficiency and safety for sure.
Long warranty from the supplier.
professional pre-sales guiding, post-sales service, and proven industry experience
complete solutions for how to operate the machine and how to do marketing
short delivery time to minimize your waiting time
What do you need to pay attention to when ordering an IPL machine?
If you finally decide to buy your own IPL machine, you need to understand the importance of getting a professional and clinic report results. This is significant as it will attest to the effectivity, durability, safety, and truthfulness of the claims of the machine/s you have purchased.


IPL Laser Machine Specifications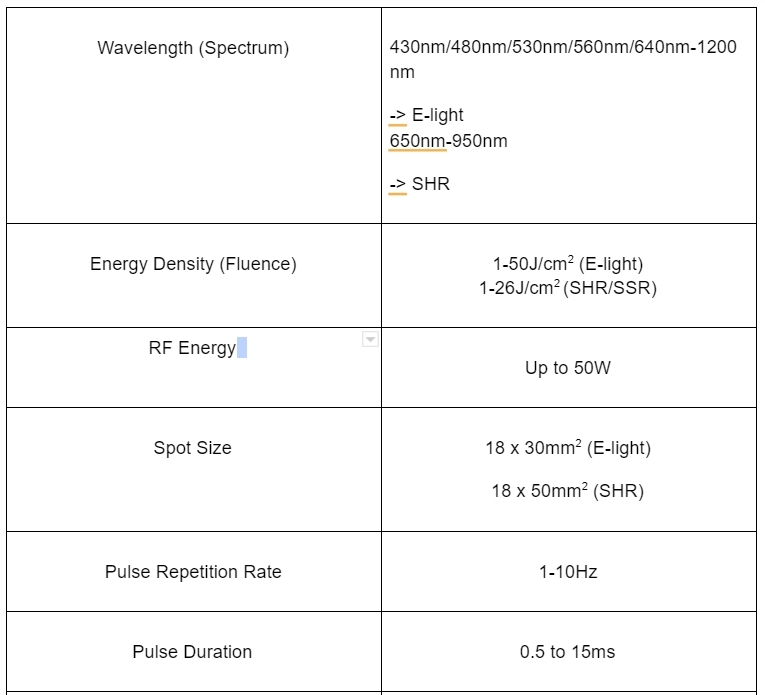 What can you get if you order IPL from Zemits
High quality IPL unit with a 2-year warranty
Skillful guiding on operating, maintaining, and marketing
Lowest cost to get a high-quality IPL machine
High profit form the multifunctional IPL machine
Variable finance and payment methods
1, 000, 000 guaranteed shots of a lifetime (UK Xenon Lamp)
Safe and fast delivery express thru DHL, TNT, UPS, and FedEx
24 hours of post-sales service
Adopts SHR TOR Technology
How much will an IPL machine cost you?
The price of an IPL machine varies depending on the model. Zemits offers four different handpieces for clients.

IPL (Intense Pulsed Light) handpiece
SHR (Super Hair Removal) handpiece
SSR (Super Skin Rejuvenation) handpiece
E-light (Intense Pulsed Light + Radiofrequency) handpiece
The models cost from $12,500 to $25,900.


What are the handpieces for?
1. In-motion SHR technology
The IPL SHR machine uses in-motion technology. The lamp flash could reach a frequency of 10Hz. The IPL machine can move around the target area fast and smoothly. The high-speed technology saves more time in the process of the hair removal treatment because the SHR mode is 2 to 3 times faster than the ordinary IPL mode. In the in-motion SHR technology, you're guaranteed a treatment that is;

faster
safer
painless
more effective
2. E-light (IPL + RF ) Technology
E-light is a combination of Intense Pulsed Light and Radiofrequency. This combination, the E-light, makes it possible to penetrate deeper than non-RF IPL technology. RF can pretreat the target area before the IPL works on it.
· E-light/IPL handle with 5 standard filters
The filters are designed for different treatments. The IPL module enables the treatment of multiple conditions with a single, universal handpiece.
IPL handpiece is designed with 9 special filters (5 standard and 4 optional) tailored to treat at least the basic demands of treatments in a salon or spa. The 5 standard filters are 430nm/530nm/590nm/640nm/690nm-1200nm. IPL are computer-enabled filter recognition for enhanced safety and ease-of-use for both the customer and the professional giving the treatment.


How to determine a well-designed handpiece?
All the handpieces are exceptionally well-designed. Zemits' machine uses the specific xenon lamp brand that has a lifetime of over 1, 000, 000 shots.
SHR handpiece has two spot sizes; (a) 18mm by 50mm and (b) 18mm by 30mm. The big spot size handpiece is more appropriate for hair removal treatments as it has a wider scope. Its wide scope makes the treatment faster. As for the smaller spot size, its scope is more precised making it more appropriate for facial treatments.
In summary, model can offer the following:

9 available filters (5 standard filters and 4 optional filters)
Xenon Lamp with a lifetime of over 1,000,000 shots
3 handle buttons
2 spot sizes available (18mm by 50 mm; 18mm by 30mm)
How to maximize the IPL machine?
Intense Pulsed Light uses different spectrum of filters or lights that ranges from 400nm to 1200nm. The different wavelengths effectively target a specific problem for facial and body treatment.
There are IPL equipments with two different treatment handpieces: (a) SHR handpiece and (b) E-light handpiece.
The SHR or the super hair removal is used for quicker and more effective hair removal treatment. While E-light is a combination of IPL and RF (radiofrequency) used for skin rejuvenation, sunspot/ pigmentation removal, anti-aging, and acne treatment.
I. for hair removal
The filters for IPL hair removal ranges from 640nm/690nm/750nm-1200nm. IPL machine penetrates through the epidermis into the dermis. The light in these ranges are selectively highly absorbed by the melanin in the hair and hair follicles but the surrounding area of the targetted surface will not absorb the IPL light.
The target area is producing a photothermal effect that is conducting the energy from the hair section to the hair root, then raising the temperature of the melanin rapidly and decomposing it, thus reaching the effect of hair removal.
The use of IPL for hair removal is permanent but it will take more than one treatment because of the hair growth cycle. To reach the maximum effectivity of this treatment, one has to complete 6-8 treatments. The advised interval between every treatment is 4 weeks.
II. for skin rejuvenation
The filter used for skin rejuvenation/skin resurfacing is 530nm or 560nm. In this process, the IPL activates fibroblasts to produce new collagen and elastin fibers. Consequently after the activation and production of new collagen and elastin fibers, skin smoothens and skin's elasticity returns.
At the same time, the photothermal effect of the IPL enhances the function and microcirculation of blood vessels, thus reaching the effect of skin rejuvenation successfuly.
III. for acne treatment
In treating acnes, IPL uses 430nm to 1200nm filter. The special spectrum of IPL VA-305 penetrates the skin and absorbs the porphyrin (pigmentations distributed widely in living tissues). The then stimulated porphyrin releases monomorphism oxyanion which now will kill propionibacterium acnes effectively.
IV. for spider vein removal
To be able to treat spider vein removal effectively, 590nm-1200nm should be used. It is very important to follow the specific filter to reach the maximum effectivity of the treatment.
V. for skin pigmentation
IPL is effective and safe for epidermis pigmentations such as sunspots and age spots or wrinkles. The suitable filter for this treatment would be 530nm/560nm-1200nm. But it has a limitation for this aspect and has a dependability variation. There is a risk for dermis pigmentation removal by IPL. There could be a burning or hypo-pigmentation that can happen. The use of IPL for large and deep pigmentations are not encouraged.

How long will the skin have been healed after the IPL procedure?
There is no downtime for IPL treatment. Customers taking treatments can go back to their usual routine immediately after. Normally IPL is very gentle. In rare occasions, there can be bruising, which needs 7-14 days of healing. For freckles and age spots or wrinkles, it will look darker in 1 week. But customers need not to worry because it just proves that the treatment works.


Does a home-use IPL machine work as effective?
Yes, it does work but since it is a home-use there are limitations to its performance and capacity. As mentioned above, for an IPL machine to be considered high quality and effective, there are standards of measurements to be followed according to the industry professionals and experts.
Home-use IPL machines have limitations because the power source is lower compared to spa or salons who follow standards to assure safety and best treatment experience for the customers. It would still be best to have your treatment done by so many industry professionals in a professional set-up.